With MoolahSense, SMEs can raise funds from investors like yourself. You will be able to gain access to opportunities which can potentially give attractive yields.
Besides being rewarded for your investment decisions, you are also fulfilling the dreams of thousands of SMEs in Singapore.
MoolahSense provides investors with the opportunity to invest in SMEs by financing their business loans and/or invoices in exchange for a fixed rate of return on their investment capital.
Business Loans
Business loans can be either secured or unsecured. A secured business loan involves the business pledging a collateral (e.g. property, accounts receivables, vehicles, furniture and fittings, etc.) in return for a loan. For an unsecured business loan, the business is not required to pledge a collateral to obtain a loan.
MoolahSense requires each business that raises capital from its investors (like yourself) to provide at least one personal guarantor for the loan. The loan tenure of a business loan ranges from 3 months to 24 months. The repayment frequency of the loan principal and interest will depend on the loan structure.
Invoice Financing
Investing through financing an SME's invoice provides immediate capital to the latter who obtains financing of their tax invoices for cash. No assignment or transfer of the invoice is carried out.  Instead, the invoice provides an indication that the SME is likely to receive an inflow of cash (i.e. the payment from the SME's customer) on the payment date of the invoice, which will in turn provide cash for the SME to repay the invoice financing loan.
The tenure for financing an invoice typically ranges from 15 to 90 days. The terms of the invoice financing loan provides for the principal and interest to will be repaid to investors on the maturity date of the invoice financing period, which is linked to the payment date of the invoice.
Let's get you started on this exciting journey to earn up to 15% in risk adjusted return.
Step 1: Sign Up for Your Investor Account
It's easy to get started! You can either:
Click on the Registration button on our website at www.MoolahSense.com
or Simply enter your details into our sign up form on the front page here:
Once you're at the registration page, fill in the details required to create your account! You would need the Email and password to log in to your account later on.
You will be required to input a valid mobile number to receive your OTP to proceed: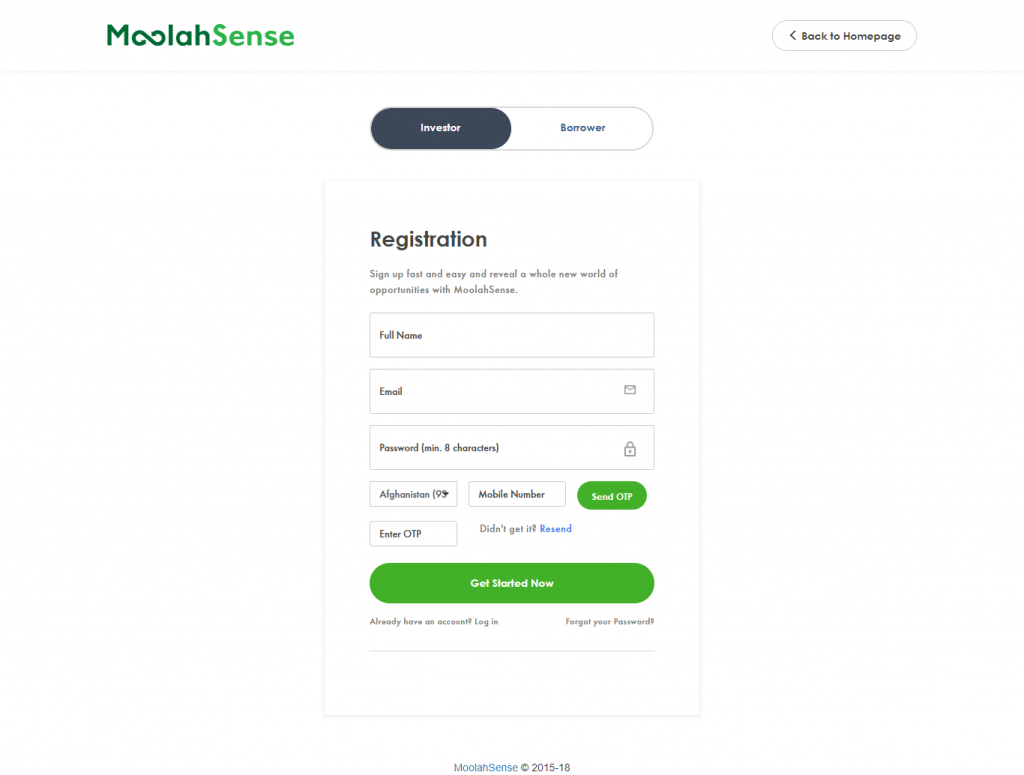 Should you have trouble receiving the OTP, please click on "Resend" to try again.
Once you've entered the details and pressed on "Get Started Now" you'll see a popup as below:
As per regulations, we would require some documentation from you to proceed. You can refer to our Registration Requirements page to find out more.
Before you can proceed to fill up your particulars, please ensure that you have received our confirmation email and have clicked on the "Verify My Email Address" button:
Congrats, Your account is now verified! Click on "Login" to set up your account now!
Step 2: Set Up Your Account
MoolahSense holds a Capital Market Services Licence issued by the Monetary Authority of Singapore ("MAS"). The Investor Profile Registration Form is an integral part of MoolahSense's compliance with the MAS's "know your customer" requirements, which is aimed at preventing financing institutions from being used intentionally or unintentionally by criminal elements for money laundering or for financing terrorism.
You can fill in your Investor Profile in 3 simple steps:
1. Personal Details: 
Some points to take note on the document upload:
Your image files must be named differently.
These documents are required as per MAS regulations. You may crop out sensitive information (e.g. Bank Balance) but we would need to verify your identity and addresses on these documents.
2. Financial Information 
For financial information, you will just need to fill in the following fields:
In the event that you receive an error message as below, please check that you have completed the email verification in step 1. If you hadn't received the email confirmation, you can click on the "Resend Email" link.
3. Acknowledgement 
The last step of the process is to acknowledge that you have read and understood the Risk Disclosure Statement:
The last bit is to fill in some background information of yourself and you'll see a confirmation page as below:
Once our team has verified your documents, you will receive a confirmation email from us and you can now log into your account and start investing in campaigns!
Step 3: Start Exploring! 
Log into your dashboard with your new account and start exploring our features.  You can use tools like Auto Allocation to automate your investments, or participate in our MoolahPoints program to refer friends and earn MoolahPoints! 
With NEW campaigns updated on daily basis, there's plenty of opportunities available for you.